Drone Defense
Drone Detection and Defense

When you think about drones you probably think of all the cool things they can do. They can do many different tasks much more efficiently than the more traditional means of doing things. When you start to dig into it you see what drones are actually capable of and that their capability grows almost daily. Unfortunately that also means that drones have many uses adverse to business and operations. This is where our partnership with Dedrone comes in. Drone technology has advanced tremendously in the past few years, and today drones significantly aid in surveying, disaster relief, delivery, and many other business and consumer applications. In the wrong hands, however, a drone's accessibility, capabilities, and ease of flying makes it especially suitable for hacking, surveillance, and terrorism.
Dedrone protects organizations from malicious drones by securing the airspace using advanced hardware and software technology.
MARKET-LEADING COUNTER-DRONE TECHNOLOGY
Dedrone integrates its own sensors and sensors from leading manufacturers into a highly efficient detection network:
RF sensors, PTZ cameras, radar systems.
AIRSPACE SECURITY WITH THE DRONETRACKER SOFTWARE
A short introduction to the Dedrone solution, including our DroneTracker software connected to multiple sensors for detection and classification of drone-based threats.
The Dedrone solution is 3 basic steps
Monitor airspace for drone activity
Locate the drone within the airspace
Mitigate the drone threat
Detect a Drone
Dedrone's RF Sensors are purpose-built for airspace security and collect hard data on drone activity in the airspace. They detect all kinds of drones and have a coverage range over 1 mile in ideal conditions.
Almost all freely available drones use radio signals. On the one hand, they receive commands from the remote control, on the other hand they send data such as video images or telemetry, e.g. position or remaining battery power, to the remote control.
Dedrone's market-leading radio frequency (RF) sensors receive and analyze these signals and are able not only to reliably detect drones, but also to classify them - i.e. identify the manufacturer and/or model - and locate them. This applies to almost all commercial, hobby and home-made drones.
Benefits OF RF detection
Reliable drone detection, classification and localization
Detection and localization of remote controls (under good conditions)
Great range
Installed quickly and easily
Operates fully automatically
Not subject to approval
Triangulate the drone's position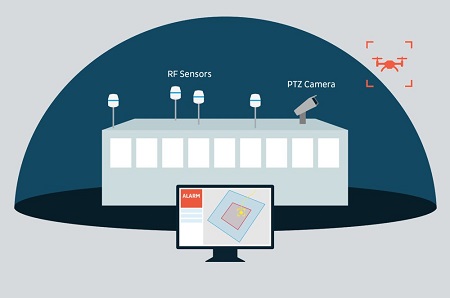 Track Drone Swarms
Using direction-finding RF Sensors, Dedrone's solution detects and localizes drone swarms, protecting organizations from the most advanced drone threats. Drone swarms are tracked and mapped in real-time, allowing accurate, real-time response from security teams.
Multiple RF Sensors are used to pinpoint the location of the drone within the airspace. Other devices, like RADAR and image sensors, can be added to complement their use and create a more robust detection and tracking system.
Various manufacturers have developed RADAR systems specifically for the detection of drones. They are integrated into the Dedrone platform as needed to complement the RF sensors. Since radars detect objects, but only unreliably automatically classify them as drones, this assessment must be performed by an operator or automatically by PTZ cameras or RF sensors in conjunction with the DroneTracker Software. RADAR systems are used in particular by airports and military customers. Since they emit radiation, they are subject to approval and price-intensive to purchase compared to other sensors.
PTZ cameras have a Pan, Tilt, and Zoom function, which allows for the monitoring of a large area in the airspace with a single device. With these specific PTZ functions, small drones can be detected at a great distance. In many cases, a PTZ camera's high-resolution imaging enables security providers to capture visual evidence of a drone's payload, allowing them to prepare for any additional threats posed by the drone.
BENEFITS OF RADAR DETECTION
Detection of autonomous drones
Simultaneous detection of multiple drones
Independent of light and weather conditions
Localization including determination of the altitude
Complement of RF sensors
BENEFITS OF IMAGE DETECTION
Optical verification
Localization of drones
Detection of autonomous drones
Visual auto-tracking
Payload identification
Recording of forensic evidence
Complement of RF sensors
---
---